In brief
Young, talented and beautiful. In three words, you can describe ANNA PIKURA, the founder of a luxury brand with the same name.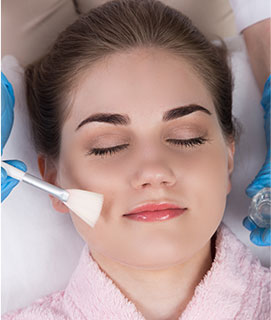 In addition to cosmetics, ANNA PIKURA also has its 3 flagship clinics located in Wrocław, Kraków and Gdynia.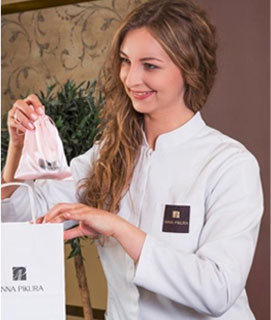 The ANNA PIKURA brand means not only collagens, but also face, eye and serum creams.
E-mail
Address
Wrocław
ul. Kazimierza Wielkiego 64
Kraków
ul. Starowiślna 82
Gdynia
ul. Świętojańska 81
Anna Pikura: "I make a breakthrough in cosmetology"
Why ANNA PIKURA means cosmetics?
Because of my love to beauty. I've been interested in the world of beauty since early childhood. I inherited this passion from my mum, who took care of the skin of all of my aunties – and mine too – as early as in the times of the People's Republic of Poland. She always applied classic Nivea cream on everybody's face very carefully, and there always were cosmetics appropriate for a young girl on my dressing table: cream and tonic. I was also a regular visitor to the local beauty parlor, run by Mrs. Teresa, overweight, but really professional. She had a habit to almost lie down on her customers while removing blackheads, which she did with a great passion. I also trained before important events, when I used to do make-up for a friend of mine.
Why study sociology instead of chemistry or biology?
Beauty is a very wide topic and it includes many different aspects of social life. People are my passion, so I've chosen my way according to this fact and according to my temperament and interests. The topic of my thesis was: "Canons of beauty over the ages", so, as you can see, I studied a subject which has always fascinated me. I also found answers to many questions important to me: Why did people correct their beauty? What do they expect from cosmetics? Which substances and methods were effective in the past?
I entrust the detailed work on the composition of our cosmetics and on the technological processes to the hands of the best professional chemists and cosmetologists, who make my ideas come alive. I also cooperate with an interdisciplinary team of scientists from various universities and countries, so that I keep track of the latest inventions. The best of them I can apply in my work.
What were the beginnings?
Shortly after completing my studies, I got interested in an innovative cosmetic, so I tried my hand at its distribution. I was not afraid of hard work nor risk, I did everything myself. I was a newcomer, but I performed much better than other, more experienced distributors, so the group of my clients was expanding fast.
I decided back then that it was time to turn my own dreams into reality and to create my own cosmetic brand, which would be different than other brands – innovative, but based altogether on nature. We debuted on the famous cosmetic fair Cosmoprof 2010 in Bologna. Our first product was biologically active collagen, which is both natural and innovative, because it can regenerate skin and restore youth. I decided to create all of my other products according to this rule. I wanted to produce cosmetics which would make every single one of my customers happy, even those with skin too sensitive or allergic, who could not use any other cosmetics. I like making nice surprises, I want to surprise those who think time cannot be reversed. My cosmetics are designed to bring hope.
The face of my brand
I am the face of my brand. I want to tell my customers that I use my cosmetics and I'm sure they are the best. I'm putting in it only the most precious things and my whole passion. I know what they contain. I'm aware that my skin is sensitive and prone to inflammations, but every single one of my cosmetics is mild enough and will comfort, regenerate and rejuvenate it.
I coined my brand's motto – New Culture for Beauty – in the very beginning and does it mean, that my products are unlike everything you can find in drugstores or perfumeries – cheap, petroleum-based cosmetics, containing artificial preservatives and aromas, which would sooner or later inflict irritations, able only to mask beauty deficiencies, without long-lasting and positive effects. I thought my customers wanted something totally different: cosmetics not harmful to the skin with long term positive effects. I needed similar cosmetics too, but couldn't buy any, so I decided to create it myself!
I'm in touch with my customers. This is my tradition. During the first period of my work on my brand, when I had to do everything by myself, I was truly supported by my customers and I will never forget that. They told me about their experiences with my products and effects on their skin. These were great tips for me, so I knew in which direction I should go. I have many customers who have been using my products from the very beginning, so I know I made a good choice.
Do not rest on the laurels
We are constantly looking for new and improved solutions. I opened the ANNA PIKURA Clinic at the very beginning of the brand's existence as its flagship in order to eliminate beauty problems with safe, comprehensive and natural methods. We introduce innovative treatments, improve our methods and observe how our products work on regular basis. I'm loyal to nature and its mild force, but I'm also fascinated with newest improvements in the field of science, and therefore our first and unique product – AP BIOAKTIV collagen – is completely natural, but the collagen's features are saved thanks to science, because we manufacture it with biotechnological process developed by our scientists. Technologically advanced devices used by our company are based on the same rule, because the newest technology allows for noninvasiveness and for making use of natural processes occurring in our bodies. I also invited aesthetic medicine professionals to cooperation, so they could offer innovative procedures compatible with our brand spirit – natural and noninvasive. Beauty is my passion, and my customers appreciate that and are loyal to our company.
Anna Pikura privately
I put my family and friends first, but, unfortunately, my work does not leave me as much free time for them as I would like to have, so I devote weekends to them. I also like cooking and culinary experiments, so I spend my evenings in kitchen, I relax there. Creation of new cosmetics reminds me of cookery very much and this is probably the reason why I like choosing extracts, oils, flower waters, butters and botanical oils so much and turning it into good cosmetics, which would be effective and have nice appearance at the same time.
I also devote my evenings to reading. I often read biographies of my 'teachers' and cosmetic market pioneers, like Estée Lauder or Elizabeth Arden. I'm constantly fascinated with Helena Rubinstein and her visionary and uncompromising attitude to realization of her dreams and ideas.
My faithful companions are cats. I also learned this love in my family home. Animals take stress away from me and they put events of the past day in an appropriate perspective. True friends and wonderful fun! And nice surprises, too, when for instance you discover a cat sleeping in a sink :).